The Bespoke Difference
One of the unique things an experienced designer brings to the table that can take an interior from well done to extraordinary. It can set your designs and your studio apart in the market place.
One way to create a custom interior is to create unique colorways for rugs (see more on custom rugs)  and fabrics that will ensure the only place your client will ever see their rug or fabric is in their own home.
At Sylvie and Mira, we have designed a small, artisan textile line that is already exclusive and sold only to the trade. No open stock, no look-a-likes at a lower price point.
This is our guide to creating custom color fabric.
Creating  Custom Color Fabric with Sylvie and Mira
Have you fallen in love with one of our patterns of fabrics? But we just don't have the color you need? We've got great news! Most of our patterns can be re-colored in bespoke colors just for your project.
It's such a simple process and the upcharge is minimal. The benefit to you as a designer is the ability to create a bespoke fabric that is unique to your client and project.
The steps to creating your custom fabric are simple.
Picking a Pattern
First pick the pattern you want for your project!  Click to see all our Patterns. Send us a quick email or call and check to see if the pattern is available as a custom color! Leap and Deckle Dot are more complex and are not available at the same upcharge.
Once you have your pattern selected, it's on to selecting a color.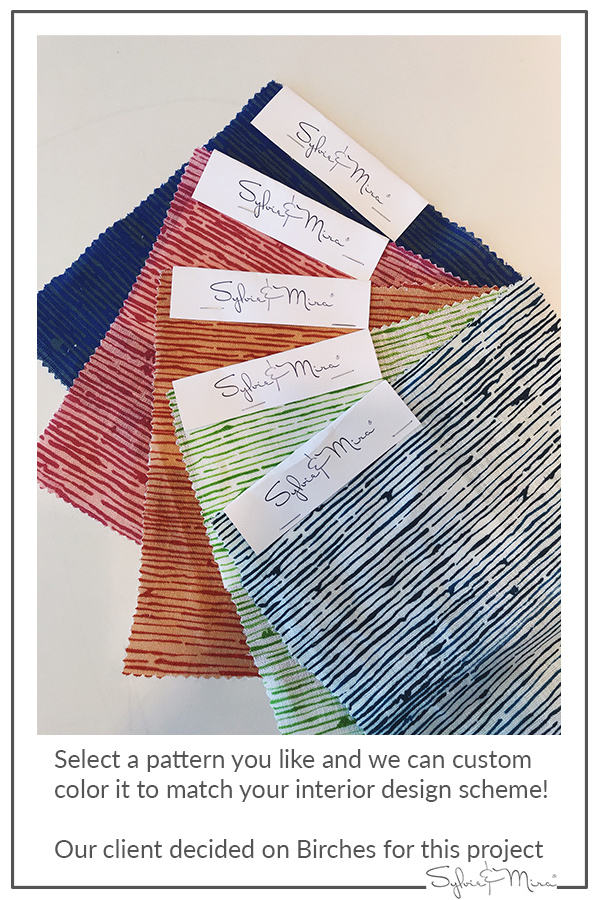 Selecting a Color
Next, you need to select a color. There are many ways to convey your color selection to us. We have a pdf we can send of available colors or you can select a paint chip or send us the fabric you want to match. We can then select a color from our magic blanket of colors that our fabric printer has.
We have had some requests to match a color from another of our patterns, which makes it easy. Just remember color interact with the color next to them so try and isolate the color while choosing. Just take some white paper to block out the color.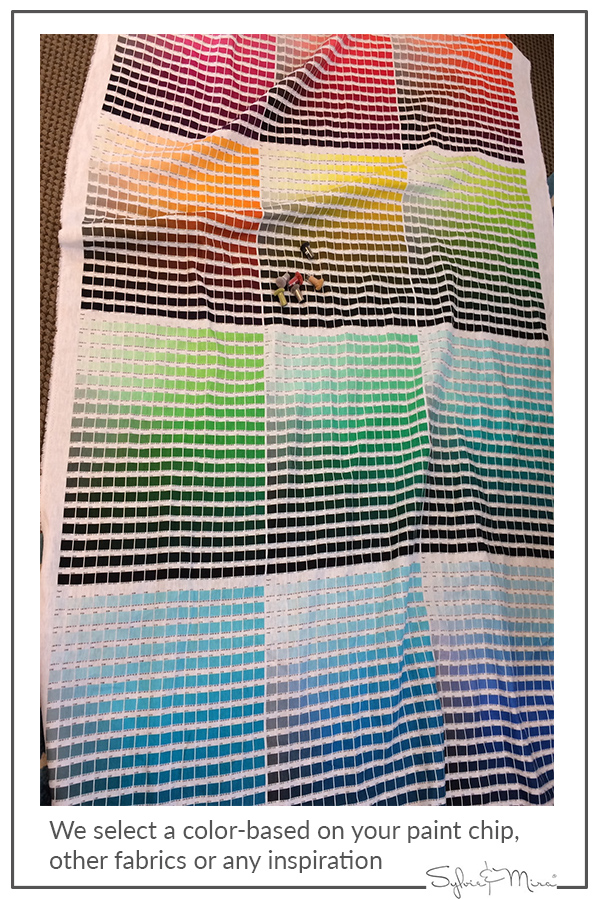 Digital Proofs
After the color is selected we can create a digital proof. All of our patterns are created from original paintings, which we paint in a neutral color to allow us to create any color way we desire.
The paintings are digitally scanned and that allows us to make a digital proof for any interior designer who wants a custom color.
Printing a Cutting for Approval
After you've seen a digital proof we move on to the next step of printing the correct color on the fabric ground you have chosen. We are currently printing on two white grounds. One is a plain weave linen and another is a cotton twill weave.
A small amount of fabric is printed and you are sent a cutting. You approve the cutting in writing (email will do) and then your yardage is produced.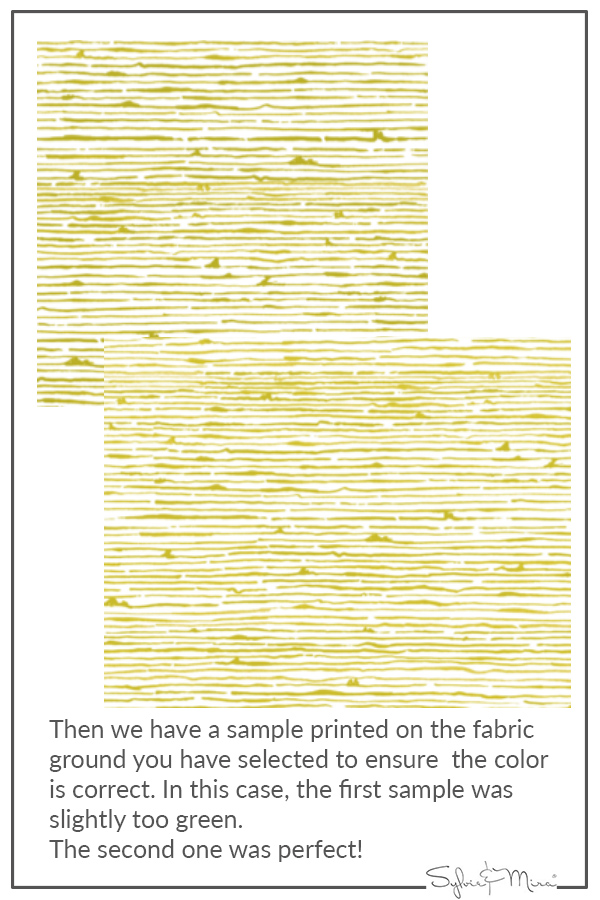 Printing Yardage
Once your cutting is approved we can print your yardage. Your yardage is carefully inspected and compared to the approved cutting prior to shipping to ensure quality.